Who Is Vick Strizheus?
Vick Strizheus is an online marketing scam artist from the Ukraine. He focuses on traffic generation and teaching others how to generate traffic to their websites. Vick Strizheus is the self-proclaimed "King of Traffic," although, his followers know him as the paid internet traffic guru.
The reason for that is because he actually buys his traffic instead of going the organic route. He also creates and promotes his own online programs that are focused on teaching striving online marketers how to get traffic. The problem is they are misled on what actual kind of traffic they are going to learn to generate.
How Does Vick Strizheus Scam People?
Vick Strizheus is very intelligent in the way he gets unsuspecting marketers to fall for his schemes. He understands that everyone knows that they need to generate a lot of traffic to make their websites profitable and that people are willing to pay top dollar to learn how to do such a thing, especially from a "guru."
But how does he convince these people to believing that he is what he says he is? Well, he shows them a video, or two, on how to place themselves in front of their competition. The thing that hooks them is that these videos are actually quite helpful and eye opening for someone without full knowledge of traffic generation.
After you watch the initial video(s), he will then invite you inside to learn a little more. Vick says he will give you some information for "free" if you just input your primary email address on his form so you can receive the video information. However, people don't realize that it isn't free, giving your primary email address to him is just like paying him money for it.
You are adding yourself to his list, and not just the list of the program in which he just invited to share a bit of information with you. So, for a couple of videos, about a topic you could have found on YouTube, absolutely free, without having to give away any of your personal information, you have just gave him what he needed to market whatever he is promoting to you from there on out.
Now, giving your personal email address to him wouldn't be considered a bad thing if he actually had a program that delivered what was promised. He is known for not completely delivering on what he had promised the people who had actually paid to learn from his programs.
7 Figure Marketing School, Global Success Club, High Traffic Academy – All SCAMS!
Vick Strizheus has created numerous programs, that are usually and initially sold through ClickBank, that have failed to meet what has been promised. Some of the main ones are the 7 Figure Marketing School, Global Success Club, and the High Traffic Academy. Every new program has a higher membership price than his past failures.
Below are some quick details on these programs and complaints from the people who were scammed by these programs.
7 Figure Marketing School
What is promised? – Videos to teach you everything about marketing both online and offline. Supposed to also be taught by people who have become famous through their marketing success.
Membership Cost – $67 per month
Site Status – No longer exists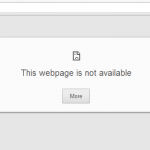 Here are some complaints (click to enlarge):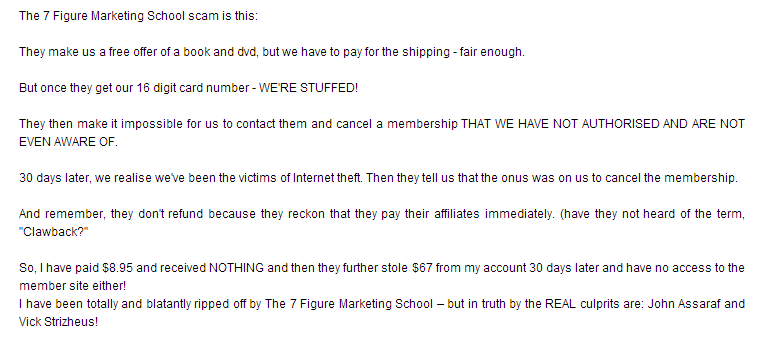 Global Success Club
What is promised? – 90 days to $100k online and thousands of daily visitors to any site you choose with their elite program called Instant Traffic Media.
Membership Cost – $97 payment to become VIP and $97 per month to maintain VIP status, Plus upsells
Site Status – Program Closed
 Here are the complaints (click to enlarge):


High Traffic Academy
What is promised? – Teach you different ways to drive a massive amount of traffic to your websites.
Membership Cost – Standard: $497 one-time, Elite: $1 first month, then $297 per month, VIP: $997 one-time at the time of signup, or $4997 after that
Site Status – Program Closed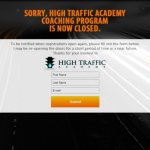 Here are some complaints (click to enlarge):


As you can see, the 7 Figure Marketing School, Global Success Club, and High Traffic Academy are all scams of Vick Strizheus. All the programs were never completed and still leave current members, who still have access to their back office, without the materials promised to them for their money.
Also, these members were in a big surprise when they found out that they actually needed to have an advertising budget. That was all do to him misleading them into thinking that they were going to be taught how to generate traffic the organic way. They soon found out that what they really were going to learn is how to pay for traffic via media buys and other expensive methods. They essentially paid to learn how to pay others for traffic.
Big Idea Mastermind (BIM) & Empower Network
Vick Strizheus is at it again! He has recently created another one of his traffic generation programs, and this one is called Big Idea Mastermind. The Big Idea Mastermind program is advertised as being completely free, with no strings attached, as long as you provide him with your primary email address.
Like I have said before, supplying him with your personal information doesn't make it free because that's what he wants and needs. Once you surrender your email to him, you will then be invited to see three of his videos over the course of a week.
The videos were created to connect with you on a mental note in order to gain your trust. On the second video, Vick even gives you landing page software that he claims is worth $497. It is the software that was sold in his other failed scams. You shouldn't trust this software because it requires you to enter your FTP login credentials for your site, and the program is managed by a scammer.
The video series ends with numerous fake, most likely paid, testimonials of people praising Vick's teachings. Days later, you get an email to join Vick Strizheus and find out what the Big Idea Mastermind actually is. The email is riddled with false and misleading information in order to trick the minds of the unsuspecting.
This is how the email is structured:
Subject line:
Big Idea Mastermind is OPEN! (only 24 hours)
Message:
Big Idea Mastermind is now LIVE and you can get in here:
GO HERE and Secure Your Spot NOW!
Remember, anyone who joins before the timer on at the top of the page reaches zero will get access to BIM and BIM marketing system for FREE 🙂
Get in right now and you'll save $5,000.
Talk soon,
Vick
The first lie is that it's not open for only 24 hours, it's open indefinitely. I decided to check days later after the email was sent to my spam email address if the 24 hour window was true, but, unsurprisingly, the timer resets every time you click the link in the email. He uses that to get people to act fast and trick them into thinking that they'll never have access to it again.
The other lies are that it'll be free and that you'll save $5,000 by joining him. We have learned that anything that has to do with Vick Strizheus is not, technically, free. And that $5,000 savings that he mentioned will be used as another mind trick that ties into the program that he wants you to join under him.
The program that Vick Strizheus wants you to join is Empower Network, which, in fact, is a scam itself. Once you join under Vick, you will then be encouraged, if not bullied, into going straight to the diamond level of Empower Network. This is where your previous $5,000 savings comes into play.
To reach the diamond level, you have to go what they call "all in" and buy all the products. Guess how much that costs? Yes, besides the monthly recurring products, it will cost you $5,000 to go all in and reach the diamond level within Empower Network.
That's the mind trick from Mr. Big Idea Mastermind himself. He offers you a deal to save you $5,000 from his BIM program and gives it to you for free if you join him in Empower Network. Then you have to spend that $5,000 you "saved" from his "special" offer and buy all the products within EN. Guess who keeps 100% of that $5,000 retail price as a commission? You got that right, Vick Strizheus does.
Big Idea Mastermind (BIM) is nothing more than a sales funnel for Vick and his team to get unsuspecting people to join them in the Empower Network scam. BIM is almost the perfect example of a bait-and-switch scheme. Pay nothing for the Big Idea Mastermind faux program, but, once you join, pay everything for the other program that is tied with the "free" BIM offer.
Vick even lies about some of the income that he makes within EN. In one of his videos, he shows everyone what is supposed to be a live screen share of his earning in his first three months with the program. You will see some astounding numbers from his earnings section in his back office. However, something caught my attention.
The commissions from the two top products did not add up correctly. Here is a screenshot of what was on the video shown on the Big Idea Mastermind website (click to enlarge):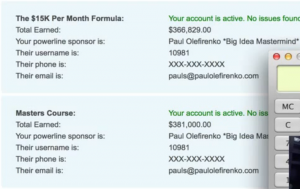 To explain the error he made, you need to know that Empower Network pays out 100% of the retail sales price of the products. You also need to know that the $15K Formula is worth $1,000 in commissions, and the Masters Course is worth $3,500. If you divide what he earned from the 15K by 1,000, then you would get 366.829 sales; and if you divide his earnings from the Masters by 3,500, then you would get 108.857 sales.
It isn't possible to make a partial sale in any program. These are signs that most of his earnings are fake computer generated numbers. I would think that he would be smarter and make all the numbers add up. He most likely thought he'd get away with it since this is in an intro video and the people watching don't know how people in Empower Network are actually compensated. Both, Vick and EN, are working together and trying to scam you into their program with false information.
Big Idea Mastermind and Empower Network are two scams working together to rob unsuspecting people blind. It's a scam within a scam. Dare I say it? It's a SCAMCEPTION!
Vick Strizheus Convicted Of Grand Theft
Yes, you read that right. Vick Strizheus was convicted of grand theft in 2007 for faking life insurance applications with information of people who didn't even exist. Vitaliy, Vick's real name, almost got away with stealing around $30,000 in commissions from those falsified applications.
He was sentenced to 90 days of jail time; however, it kind of went in his favor. Vick Strizheus was also given 5 years of probation, in which he was told that he could not leave his home state of South Dakota. Here's a video with his conviction and sentencing details:
How can you trust a convicted felon that defrauded his employers for his own unethical personal gain? Vick said he wouldn't ever steal again, but he has, and this time from unsuspecting people seeking to better their lives.
This video alone is enough to prove to me that he can't be trusted; no matter what it is he's selling. I believe in second chances as much as the other guy, but, from my review, you have seen that Vick Strizheus has failed to change on many occasions and at the cost of others hard earned money and valuable time.
My Final Thoughts On Vick Strizheus And Big Idea Mastermind
Vitaliy "Vick" Strizheus has shown, time and time again, that he is not to be trusted. He's just adding you to his email list so he can sell you whatever unfinished program he has to offer next. Don't get me wrong, I think he's a very intelligent individual as he understands how to sell through the mind, but he is abusing it to make a fortune by misleading people that are new to the industry.
I strongly recommend that you stay far away from Vick Strizheus, Big Idea Mastermind, and the Empower Network scam he is promoting in conjunction with BIM. There are many sources online that provide information, even the things being taught by Vick, that are actually free and don't require you to give away any of your personal information in exchange.
Have you been scammed by Vick Strizheus? If yes, then I welcome you to share your personal experience below in the comment section below. I also welcome any other comments that would add value to this post. Your feedback is always appreciated, and I will respond to ALL comments, as soon as possible, within 24 hours. Thanks!